Description
One Shape Endo Kit
1. Micro Mega One Shape Rotary Files
Simplicity of use
1 single instrument for shaping.

Time saving thanks to the sterile instrument.

1 single reference to manage stock.

Facilitated instrument handling for assistants.
Efficiency
Instrument in continuous rotation.

Asymmetrical cross-section + longer pitch increase the available volume for upward debris elimination: high-quality shaping.

The quantity of apically extruded debris is less with continuous rotation.
Safety
Controls risk of infection due to sterile blister packaging.

Respect of office hygiene.

The variable pitch reduces the screwing effect.

Minimal fatigue along the length of the file virtually eliminates the risk of separation.
Flexibility
More flexibility due to the longer instrument pitch: superior ability to negotiate curves.

Ergonomics which gives a maximum comfort.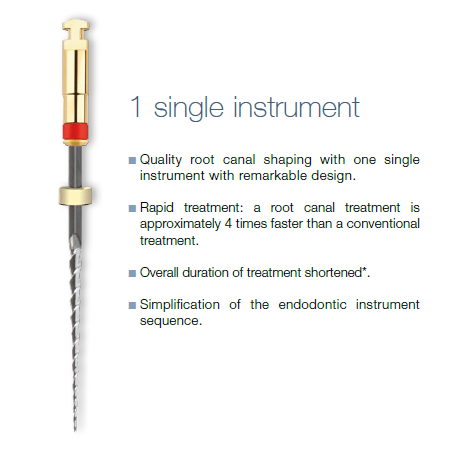 2. Endodontic Contra-Angles for NiTi Instruments
The AX'S Endo offers multiple advantages such as better visibility, maneuverability and reliability in each of your treatments.
Slim neck design, ergonomic, balanced for maximum visibility

20° angle, for 180° vision

Automatic locking of the root canal instrument
Instruction for Use
CA AX'S Hp Instruction for Use.pdf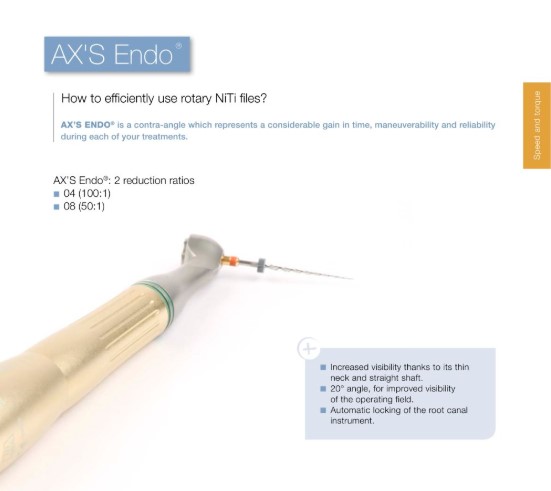 3. One G Rotary Files
The single-use and sterile NiTi rotary file for glide path development
Glide path development is an important and indispensable step in the root canal preparation. The initial scouting is performed with a hand file. One G is strongly indicated in case of canals difficult of access (narrow, highly mineralized canals or canals with strong curvatures), when hand files are not sufficient.
Ease of use and simplified instrument management
Ready-to-use and discarded file after use

Well-known and recognized instrumental dynamics (in and out movement)
Efficiency
One single instrument to save time for the complete endodontic treatment

Active file which removes part of the organic canal content
Safety
Smooth progression, excellent ability to negotiate curves, particularly in thin and curved canals

Resistance to instrument breakage and unwinding

Less risk of endodontic errors (creation of ledge, false canal, canal transportation, etc.)

Infection risk control thanks to the sterile blister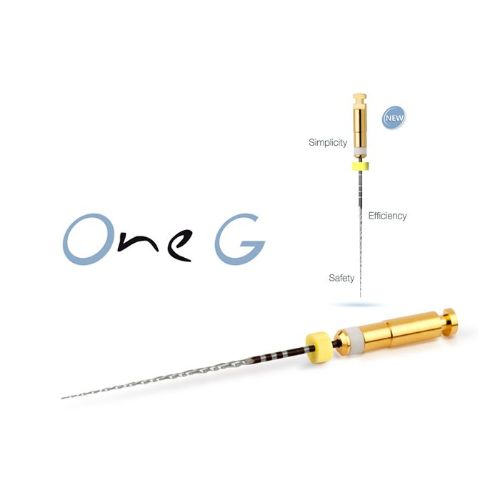 Content
One Shape Files 6% #25 Sterile Pack of 5's x 10 packs

Contra Angle AX'S 08 (50:1) Hanpiece x 1unit

One G Files 5's x 1 packs

Video