Description
Micro Mega One Shape Rotary Files
Simplicity of use
1 single instrument for shaping.

Time saving thanks to the sterile instrument.

1 single reference to manage stock.

Facilitated instrument handling for assistants.
Efficiency
Instrument in continuous rotation.

Asymmetrical cross-section + longer pitch increase the available volume for upward debris elimination: high-quality shaping.

The quantity of apically extruded debris is less with continuous rotation.
Safety
Controls risk of infection due to sterile blister packaging.

Respect of office hygiene.

The variable pitch reduces the screwing effect.

Minimal fatigue along the length of the file virtually eliminates the risk of separation.
Flexibility
More flexibility due to the longer instrument pitch: superior ability to negotiate curves.

Ergonomics which gives a maximum comfort.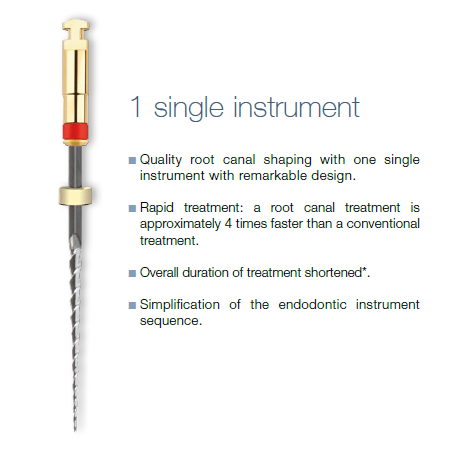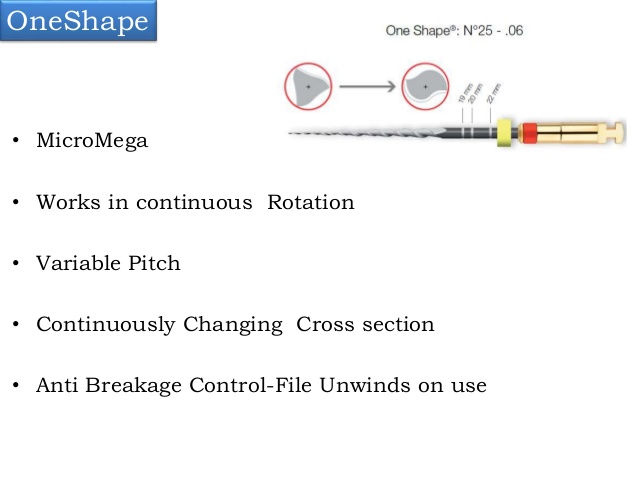 Content
Pack of sterile 5's
Length : 21mm / 25mm / 29mm
Speed: 350-450rpm
Torque: 2.5 Ncm
6% # 25
Length Marked
Sterile Pack of 5's
Length : 21mm, 25mm, 29mm
Video