Description
PROMOTION!
FREE RM1,000 product voucher for purchase DTE product
DS-II LED
DS-II, as the product with the core technology of DTE: owns complete clinical monitoring system, guarantee the safety; adopts Cascade Fixed Frequency, with more steady and efficient vibration matching; with developed spare parts, more close to and focus on clinical practice.
Safe
Handpiece and pump line can burden UHT sterilization, to make sure the bacteria-free environment.

Newly Developed Handpiece
Developed internal Structure: handpiece and tip are more compatible, with steady output.
Developed packaging technology: more stable after UHT sterilization, with constant quality.

Convenient & Fast Operation
Display and operation interface is waterproof and dirt resistant, more fits for clinical practice.
Three modes: bone cutting mode, root mode, clean mode.
Application: stomatology, plastic and reconstructive surgery, orthopedic surgery, such as osteotomy, osteoplasty and bone collection.
Handpiece and cable are autoclavable.
Perfect alarm system ensures the safety of operation and machine.

Equipment
Equipped with two professional disinfection kits.
Equipped with: 2 handpieces & 14 tips.
Features
1. Three main functions: bone, root, clean
2. The function of bone is mainly used for dental surgery, such as dental extraction, bone grafting, osteogenic distraction, endodontic surgery, alveolar nerve decompression,cyst removal, osteoplasty, bone harvesting techniques and periodontic surgery. etc.
3. The function of root is mainly for mechanical ultrasonic treatment, such as periodontic, endodontic and prevention treatment.
4.LED Handpiece,cable,tip holder, working tip and torque wrench can be autoclaved under the high temperature of 135°C and the pressure of 0.22Mpa.
5. The perfect monitor and alarm function of working process ensures the safety of the machine and surgery.
6.Original Woodpecker DTE product with authenticity verification code.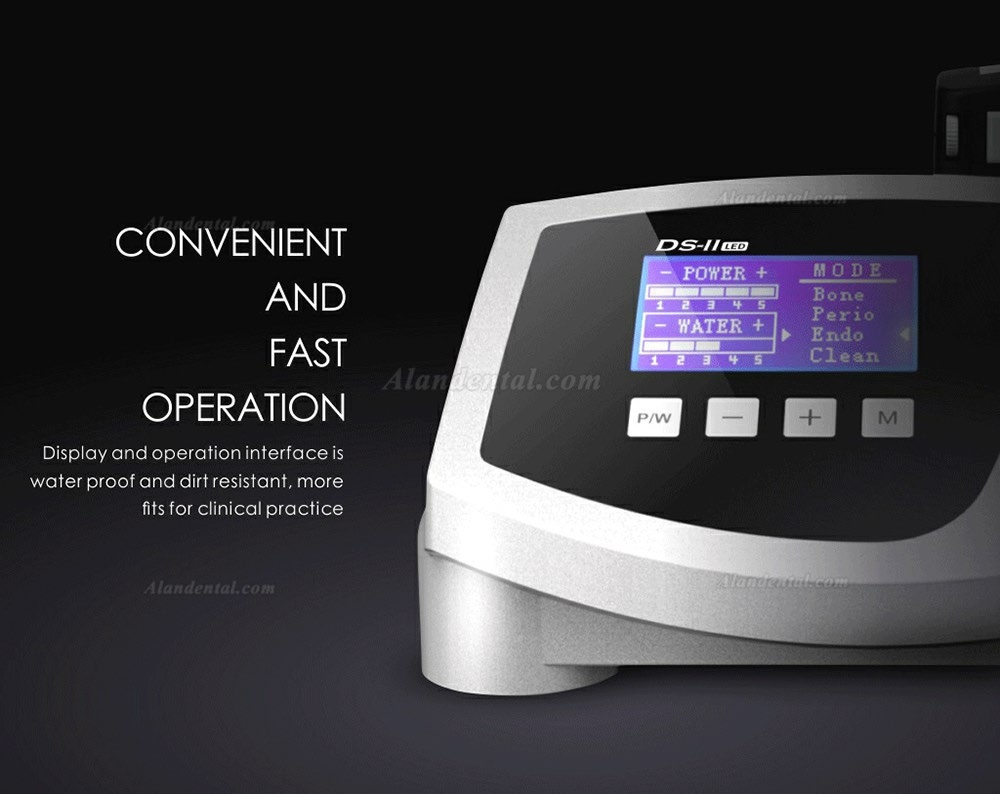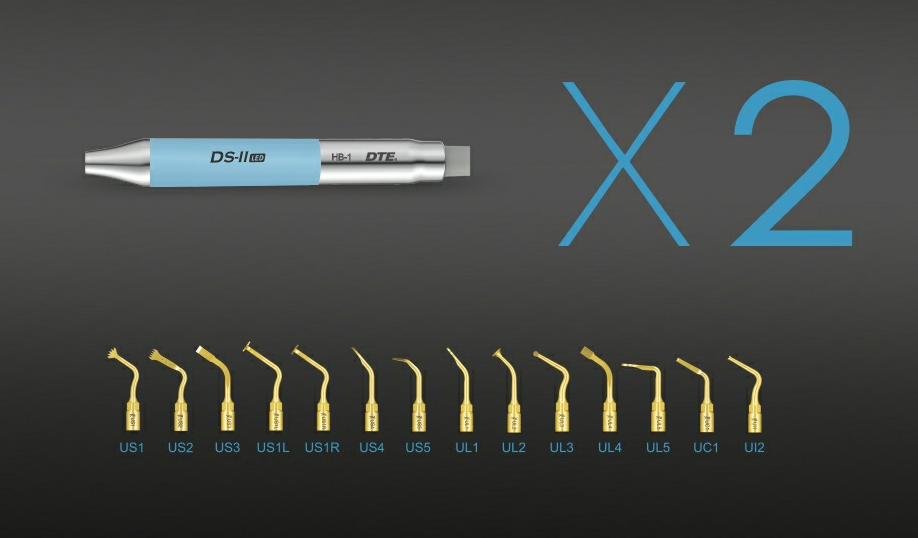 Specification
| | |
| --- | --- |
| Power input | 100-240V ~ 50Hz/60Hz |
| Frequency | 24kHz ~ 36kHz |
| Power output | 5W~35W |
| Main unit weight | 31kg |
| Dimension | 330mmx254mmx167mm |
Content
Accessories
1 x Main Unit, 2 x LED Handpieces with cord, 14 x Tips, 2 x Tip Holders, 1 x Torque Wrench, 1 x Foot Switch,
1 x Pump connector, 1 x Surgical Tray, 1 x Suit case, 1 x Rod, 1 x connector etc.

14 Tips Includes
Basic Kit - US1, US2, US3, US4, US5
Sinus Lift Kit - UL1, UL2, UL3, UL4, UL5
Osteotomy Kit - US1L,US1R
Implant Prep Kit - UI2
Extraction Kit - UC1