Description
HahnenKratt Exatec Titanium System Intro. Kit

Exatec modular root post system
A root post which is conical shaped in its apical section, has many advantages over cylindrical posts:

Due to the fact that the conical shape corresponds to the natural course of the dental roots, it is ensured that more tooth mass is preserved in the critical area of the root tip, thus minimising the risk of a root fracture.

At the junction of the post and head that is potentially at risk of fracture, the conical Exatec post has rounded transitions and a larger post cross-section than a cylindrical post at the same apical length. The Exatec post is therefore more stable and achieves better scores and bending load tests.

However, conical posts must be surely anchored without wedge reaction. Therefore the Exatec-Calibration drill was developed. This special drill prepares a precise axial lug-rest for the Exatec posthead, that automatically determines the position in which the post has dentine contact, but exerts no pressure on the root wall.

The posthead fits exactly into the calibrated post bearing. Thus the stability of the restoration is optimised and the apical upward movement of the post is stopped with precision. Because of the conus the highest possible preservation of the tooth substance is achieved.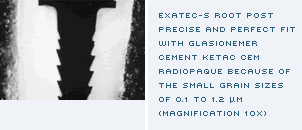 For a perfect and precise restoration an instrument is necessary, that guarantees a perfect fit of drilling and post:

Exatec-Calibration Drill
with integrated head cutter that calibrates the axial support of the post in a single pass.

The perfect support
ensures the axial support of the post head into the dentine.
Content
1. #42300 Intro Kit
1x #42001 Size 1 Calibration Drill

1x #42002 Size 2

Calibration

Drill
1x #42003 Size 3

Calibration

Drill
1x #42005 Size 5

Calibration

Drill

1x #42010 Preshape Drill w/ Standard Shank

1x #42100 Pilot Drill, Universal w/ Partial Cutting Tip

3x #42311 Size 1 Posts

3x #42312 Size 2 Posts

2x #42313 Size 3 Posts

2x #42315 Size 5 Posts

Measurement Card

Direction for Use
2. Refill Post Pack 10's
#42311 Size 1 Posts

#42312 Size 2 Posts

#42313 Size 3 Posts
3. Refill Drill Pack 1's
#42001 Size 1 Calibration Drill

#42002 Size 2

Calibration

Drill
#42003 Size 3

Calibration

Drill
#42004 Size 4

Calibration

Drill
Download