Description
SEplus Mouth Mirror
High reflection and best image quality
The SEplus reflection layer with its double pure silver coating, generated in a high vacuum, guarantees an extreme high reflection. As a result the mirror image is of a bright and brilliant image quality.
High resistance against disinfection solvents
The SE plus silver coating is protected by a layer combination made of Copper/Titanium developed by our company, that ensures the extreme long life of our mouth mirrors by its high resistance against all types of disinfection and sterilization.
SEflex with flexible and flat stem
The ergonomically correct angle can be self-adjusted.
Size 3: Ø 20 mm
Size 4: Ø 22 mm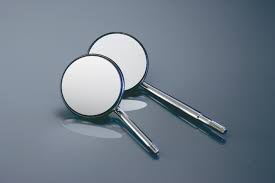 Content
1 box = 12's
Catalog
https://www.hahnenkratt.com/pdf/einzelkataloge/1.06_SEplus_de_ES.pdf