Intra Oral Camera with 17" LCD Screen
- Built in with WIFI
- Pixels 5 million with 6 illumination LED
- Focus Distance: 3 – 50mm, auto focus
- Image Sensor: ¼ Sony HAD CCD
- Non-fogging
Harmonic Medical Co., Ltd.
Oral Camera
Operation Manual
Model No.: XH-SW30, XH-SW30Y
Version No.: H01
Contents
1. User instructions …………………………………............ 2
2. Safety notes & Warning …………………………………. 3
3. General Descriptions ..…………………………………... 4
4. Technology specifications ……………………………….. 5
5. Installation ……………………………………………….. 5
6. Operation instructions …………………………………... 6
7. Maintenance ……………………………………………… 7
8. Packing list ……………………………………………….. 8
1. User instructions
1.1 User guide
Read the operation manual carefully prior to the first operations to avoid misuse and prevent from damage.

1.2 Target group
This unit is for dentists and dental qualified staff to operation.

1.3 Symbol descriptions
The following symbols may appear in this manual, on the marking label, or on it's accessories. Some of the symbols represent standards and compliances associated with the unit and its use.


| | |
| --- | --- |
| | CE Mark: conforms to essential requirements of the Medical Device Directive 93/42/EEC. |
| | Date of manufacture. |
| | Manufacturer |
| IPXO | General equipment |
| IPXI | Drop-proof type equipment |
| | Only using in room |
| ~ | AC |
| SN | Specifies serial number |
| | Notes |
| | Type B applied part |
| | DISPOSAL: Do not dispose this product as unsorted municipal waste. Collection of such waste separately for special treatment is necessary. |
| | Refer to instruction manual / booklet |
1.4 Classification

1.4.1 Class I equipment;

1.4.2 Type BF applied part;

2. Safety notes & Warnings
2.1 General
The user must ensure that the unit works properly and is in satisfactory condition before each use or operation.
This unit is designed for use in dentistry only and may only be used by trained medical personnel. Any other type of use is not permitted.

2.2 Purpose-Proper use
"Proper use" includes following all the instructions for use and ensuring that all inspections and service tasks are performed.

2.2.1 Installation, instructions, expansions, adjustments, changes or repairs were carried out by technicians trained by HARMONIC or the third parties authorised by HARMONIC, or by the personnel of authorised distributors.

2.2.2 The unit was operated in accordance with the instructions for use, care and installation.

2.2.3 The unit must be cleaned and serviced according to instructions.

2.3 Warnings

2.3.1 Never use the camera without a new disposable camera sheath in place and never attempt to clean one that has been previously used.

2.3.2 The device is not suitable for use in the presence of flammable anesthetic mixtures with air or with oxygen or nitrous oxide.

2.3.3 Do not dispose of electrical appliances as unsorted municipal waste, use separate collection facilities. Contact your local government for information regarding the collection systems available. If electrical appliances are disposed of in landfills or dumps, hazardous substances can leak into the groundwater and get into the food chain, damaging your health and well-being.

2. 4 Notes

2.4.1 The unit should be placed at dry room with good ventilation.

2.4.2 The unit should be stored under following conditions: Relative humidity less than 80%, air pressure 80KPa ~ 106KPa, temperature -10℃~+50℃.

3. General Descriptions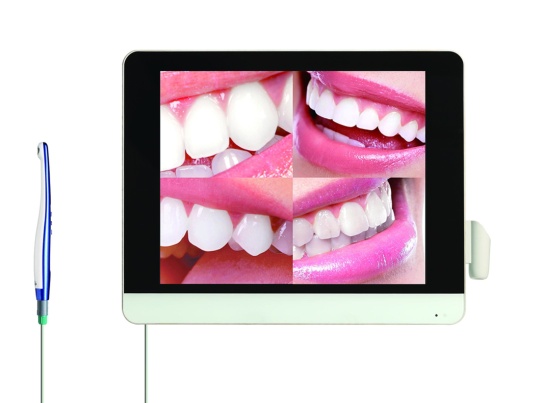 ---
Cable Holder
Handpiece
4 Stander points
All connectors at bottom at side
Back view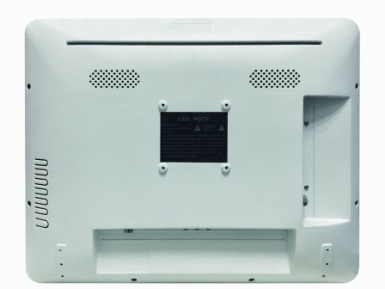 4. Technology specifications
Power Input: ------------------------------------------- AC100~240V,50~60Hz
Pixels: --------------------------------------------------- 5 mega pixel
Focal Distance: ---------------------------------------- 3 -50mm, Auto Focus
Image Sensor: ------------------------------------------ 1/4 SONY HAD CCD
Handpiece: --------------------------------------------- 6 pcs of LED lights
Signal System: ----------------------------------------- NTSC/PAL
Weight of Handpiece: --------------------------------- 50g

5. Installation
5.1 Application conditions
Working environment temperature:------------------ -10℃ ~ +50℃
Relative humidity: ------------------------------------- ≦80%
Atmosphere pressure: --------------------------------- 80Kpa ~ 106Kpa

5.2 Installation ways:
Step 1: Screwing the displayer to stander by the 4 stander points.
Step 2: Connecting Handpiece with displayer by cable.
Step 3: Plug the adaptor to displayer and connect to power.

5.3 Power on displayer, at same time power on the switch of control part, then handpiece can work for photos.

6. Operation instructions
6.1 Handpiece

Camera Probe Cable Connector
Freeze/Release Preview/Delete1/4mode switch

6.1.1 Power on the switch of control part, the LED light on, press "Freeze/Release" key to take photos; When camera is under Preview mode, press the key, camera will convert to Capture mode.
Note: When camera is under single image mode, the system will store the last image to USB flash disk automatically, but the current photo no stored; Under 4 images mode, the system will store the last 4 images automatically, not enough 4 images no stored.

6.1.2 Press "Preview/Delete" key to enter preview mode and check all images taken, choosing image and keep to press "Preview/Delete" key until to show delete hint on displayer, then press "Preview/Delete" key again to delete image.

6.1.3 Press "1/4 mode switch" key to convert single image mode and 4 images mode showing on displayer.

6.2 Displayer (all connector on back)
Handpiece USB VGA Switch cable socket flash disk wifi connector of control part

All connectors at side
USB VGA power adaptor
Flash disk connector connector

All connectors at bottom
6.2.1 Using VGA cord to connecting "VGA connector" at side and bottom

6.2.2 U disk insert to USB flash disk connector at side.

6.2.3 Plug power adaptor to connector, connecting handpiece with socket at side by cable.

7. Maintenance
7.1 Using dry cloth or sponge to dip a little alcohol to wipe the handpiece and connecting cable, keeping clean;

7.2 If handpiece or connecting cable has been contaminated with blood or saliva, pls use dry cloth or sponge to dip mild soap or washing agent to wash them and dry, then disinfect them by alcohol (refer to 7.1);

7.3 During operation and maintenance, the persons must wear glove all the time and wash their hands when finished.

Notes: Never using any disinfectant to clean camera probe.
Warning: Ensure power shut off before each maintenance.

8. Packing list
Displayer: ---------------------------------------------------------- 1 pc
Handpiece: --------------------------------------------------------- 1 pc
Connecting cable: ------------------------------------------------- 1 pc
Power Adaptor: ---------------------------------------------------- 1 pc
Handpiece holder: ------------------------------------------------- 1 pc
Disposable sheath: ------------------------------------------------ 20 pcs
Operation manual: ------------------------------------------------- 1 pc