Description
Finishing and Polishing
The high performing disc is now even easier to choose!
Translucent disc. Enhanced working surface visibility.

Flexible. Thin disc allows for greater disc flexibility.

Long-lasting. Made of durable polyester impregnated with aluminium oxide particles.

Precise. Flush-mounted mandrel and patented retention system ensure precise operation, protecting neighbouring teeth from scarring and tissue damage.

Ready to use abrasive layer. Uncoated cutting edges for high efficiency from the start.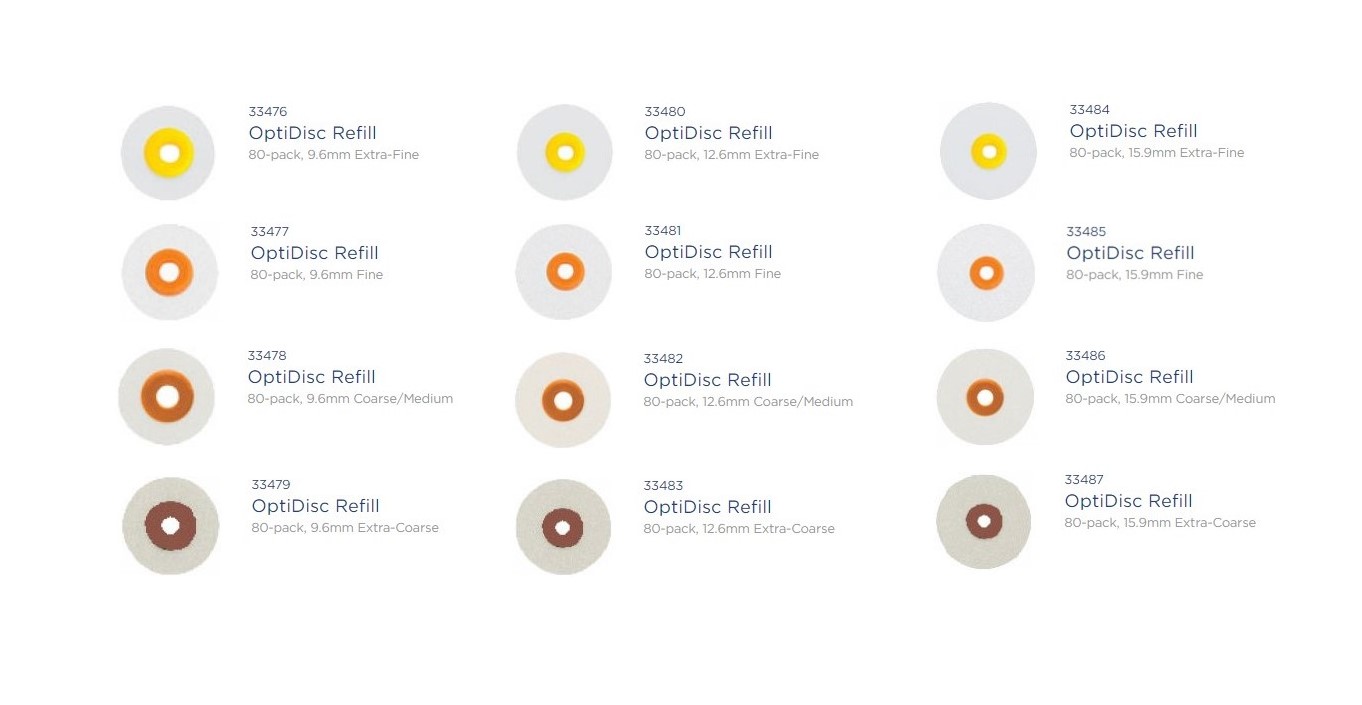 Content
1 Pack = 100's
33476 OptiDisc Refill80-pack, 9.6mm Extra-Fine

33477 OptiDisc Refill80-pack, 9.6mm Fine

33478 OptiDisc Refill80-pack, 9.6mm Coarse/Medium

33479 OptiDisc Refill80-pack, 9.6mm Extra-Coarse

33480 OptiDisc Refill80-pack, 12.6mm Extra-Fine

33481 OptiDisc Refill80-pack, 12.6mm Fine

33482 OptiDisc Refill80-pack, 12.6mm Coarse/Medium

33483 OptiDisc Refill80-pack, 12.6mm Extra-Coarse

33484 OptiDisc Refill80-pack, 15.9mm Extra-Fine

33485 OptiDisc Refill80-pack, 15.9mm Fine

33486 OptiDisc Refill80-pack, 15.9mm Coarse/Medium

33487 OptiDisc Refill80-pack, 15.9mm Extra-Coarse