Description
Zoneray HL-AH G8 Amalgamator
Introduction
Model HL-AH G8 Amalgamator, which controlled by a microprocessor to
ensure a precise, controlled, consistent mix. With wide oscillating range (adjust
any Speed as your desire from 2800 rpm to 5000rpm; time from1S to 99S), it is
suitable for all the capsule and glass ionomer sold in the market. For safe
operation, the motor will stop, when the mask is open. It with rubber pad to
avoid dust, liquid, and capsule fall into. It can satisfy different customers'
requirements. CE,FDA approved.

Feature
1. With digital LCD showing speed and time.
2. Adjust Time and Speed freely.
(Time from 1S~99S, Speed from 2800rpm~5000rpm)
3. Time setting with memory function.
4. Security Guard design, motor will stop when the mask is open.
5. Ergonomic design, which looks like a beetle car.
6. It's revolve according to"8"model.
7. Noiseless, very stable operation.
8. Electrical safety standard met.
9. Four colors for choose.
10. Easy maintenance.
Technical Parameter
1)Power voltage
2)Motor power: 40W
3)Blending speed: adjust any speed as your desire from2800rpm to 5000rpm
4)Range of timing: 1-99S
5)Noise level: less than 65db (A)
6)Gross weight: 2kg
7)Size: 260*220*190mm
Name of parts and Operation Detail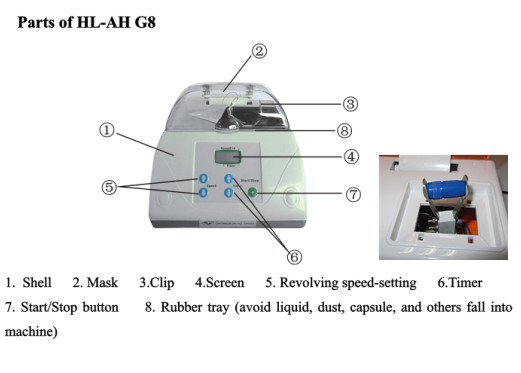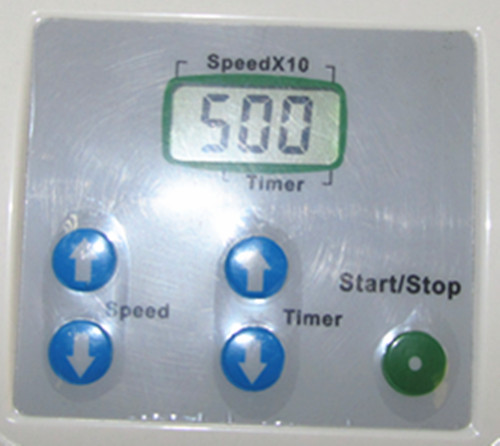 Operation for Use

1) Turn on the switch and press the black switch at rear device, the screen is light.

2) Set the blending time. Press time up/time down button, the screen shows time; press the time-setting button, the time increases/decreases by 1 second. If you press the time-setting button for a long time, the time will increase/decrease to needed time quickly. (Setting time ranges from 1 to 99 seconds) and the timer is memorable.(eg. 036 stands for 36 seconds . Press time-up by one second, it becomes 037; press time-down by one second, it becomes 036).

3) Set the blending speed. Press speed-up/speed-down button, the screen shows time. Press speed-up shortly, the speed increases 100 revolutions; press speed-down shortly, the speed decreases 100 revolutions. If you press the speed-up/speed-down button for a long time, the speed will increase/decrease quickly. (Setting speed ranges from 2,800 to 5,000 revolutions).(eg. 3200 stands for 320 revolutions . Press speed-up by 100 revolutions, it becomes 330; press speed-down by 100 revolutions, it becomes 310).

4) Open the mask, put the capsule into the clip and then close the mask.(To ensure safety, the device will beep on error instead of working while the mask is open , )this setup has applied for national patent successfully, the number is ZL 2005 2 0014942.1.

5) Press start/stop, the device runs, meanwhile, the screen shows the blending time which is decreasing accordingly until the time is over with beeping and the device stop working automatically.

6) Turn off the device and detach the capsule, the blending is ok.